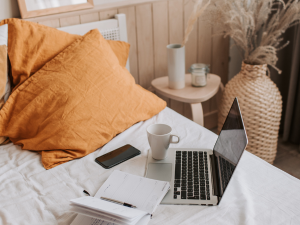 As technology evolves, more businesses are moving towards a cloud service model to house their web infrastructure and software. This eliminates the need for on-site infrastructure and gives businesses the freedom and lower costs of IT infrastructure available over the internet. Find out how cloud services can help your business and how you can decide which one is best.
Cloud Service Model vs. In-House Servers
Cloud computing is a revolutionary way to store data, software, and applications, especially for businesses that deal in e-commerce, telehealth communication, and e-learning.
Purchasing and housing physical servers on-site allows you to oversee your applications. However, it can be difficult to manage your infrastructure if you aren't well-versed in this technology or have sufficient IT staff in-house.
When you use cloud computing services, a cloud service provider hosts your data and software on their servers with a strong backup system, so if something goes wrong, you won't lose any time. The cloud service provider fixes bugs, makes sure systems are up to date, and keeps an eye on your software.
Migrating to the cloud is a great way to cut costs since you can pay only for the resources you use and scale them up or down depending on your business needs.
Popular Types of Cloud Service Models
Cloud computing can be confusing since several different models are available. Understanding the cloud service models will help you determine which is best for your business.
PaaS
Platform as a Service (PaaS) systems provide a flexible cloud platform to develop and manage your apps. A third-party service delivers this platform to your developers, who can then create custom apps, networks, and more. The cloud provider secures the platform, so you don't have to worry about data loss, and it can increase your business productivity.
This service model is great for businesses with multiple vendors and developers since the developers only need to write the code to run and manage the apps.
IaaS
Infrastructure as a Service (Iaas) models take care of all the infrastructure your business technology needs, including networks and storage. This flexible model lets you scale your resources up and down depending on your workload. You can easily access your computing resources without needing to purchase servers physically.
SaaS
Software as a Service (Saas) models give you access to in-demand software applications through the web. A cloud service provider manages and maintains SaaS services, so you don't have to install applications and software on your current computing infrastructure. Your business can save money upfront since this model eliminates the need for physical hardware.
Once you pay the licensing fee to your provider, users within your organization can access the software on any Internet-connected device. You can begin using this software almost immediately.
Choosing a Cloud Computing Provider for Your Business
If you still don't know which cloud service model is best for your business, keep researching and try out different ones until you find the one that meets your business's needs.