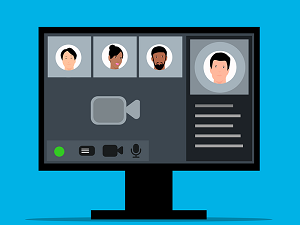 If you're a Mac user and you also use Zoom be sure to check to see what version of Zoom you're running.  Recently a bug in the Mac version of the software was found that could cause your computer's microphone to remain on even after leaving a meeting.
Mac Zoom users have been complaining about the issue since December of last year (2021).
The company responded quickly and explained that the issue was a bug and trying to quell suspicion that it was intentional.  Given Zoom's past issues with privacy violations, convincing their user base that it was a bug and unintentional was more difficult than it should have been. However the company got to work and have now fixed the issue as of version 5.9.3 which was released in January.
It should be noted that this was the company's second attempt to fix the problem.  The first attempt was released in December (the same month that the issue was reported) but the fix found in version 5.9.1 didn't work for everyone.
With the release of version 5.9.3, the company also issued the following statement:
"Zoom has determined that this bug did not result in audio data being transmitted back to Zoom's platform. As always, we recommend users make sure their Zoom client is updated to the latest version."
It's a shame that the company had to issue such a statement but the simple truth is that they did it to themselves with their previous fast and loose policies relating to the privacy of their users.
Considering the suspicion this bug was greeted with and the fact that the company had to bend over backwards here to convince their users that it was a genuine mistake is proof that Zoom still has some work to do to regain the trust of their user base.
In any event check your version number and update as soon as you're able if you haven't done so already.