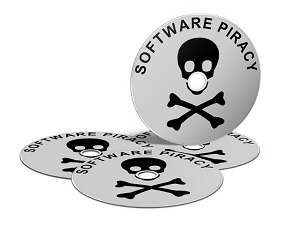 Most reputable businesses don't deal in illegal copies of commercial software, but there have been a few reported instances. There's always the possibility that a cash-strapped individual that's eager to do additional work from home might resort to installing a 'cracked' free copy of a program. Unfortunately, those who opt to go that route now run even greater risks than they did before.
Hackers have begun embedding a variety of malware and ransomware into free cracked programs, in a growing number of cases.
Security researchers from around the web are reporting that ransomware, (especially a strain known as "STOP") is making an appearance in an increasing number of software cracks. These include Windows activation kits, Photoshop, and a whole host of antivirus programs.  As with other types of ransomware, by the time you see indications that you've been infected, it's far too late.  By installing what you think is a 'free' version of a program you want or need, you'll wind up with all your files encrypted and a ransom page demanding that you pay a hefty fee to get them back.
If there's a silver lining in the equation, it is this:  STOP ransomware isn't very good as malware goes. It may be possible to decrypt your files on your own.  It will take some effort, but it has been accomplished in at least a few instances.
In any case, STOP is spreading almost exclusively by way of cracked software. The best way to be sure it's not a threat you have to worry about is simply not to rely on cracks.  Yes, sometimes we all feel that some companies might be charging a bit too much for their product.  Sadly, the alternative to buying a legitimate copy comes with risks that just aren't worth taking.