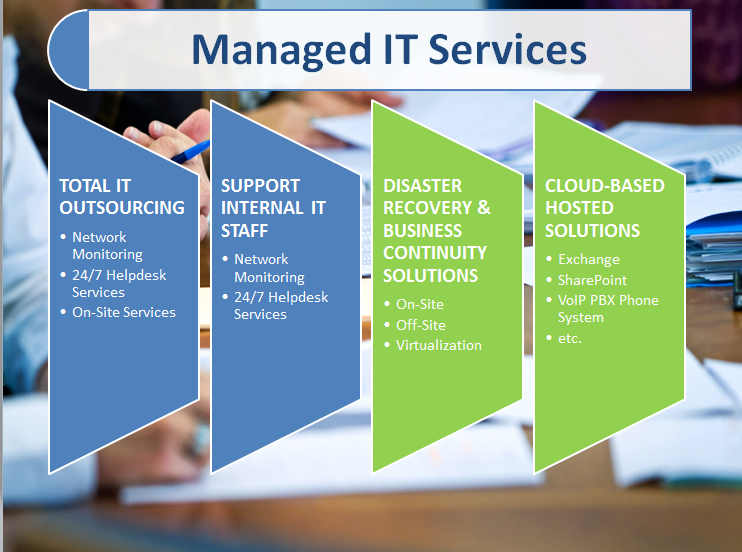 In the past few years we have come across an increasing number of companies across all verticals moving to Managed Services. The move is about going from a traditional IT service model of Time & Materials (Breakfix) or Block Hours to adopting IT managed support services through a Manged Service Provider. No longer are large companies the only ones that can afford these services. Small and medium companies have discovered that they can also reap significant cost savings.
Discovering about IT Managed Services
This trend regarding what small and medium companies have discovered about IT managed services are amazing. Resources at many companies may be scarce. The day of the in-house IT Unicorn that can handle all of a business's entire Network, Systems, Security and Backup are going by the wayside in the SMB marketplace. They may not be well equipped to handle all infrastructure issues and requirements of the company. Generally, businesses suffer as the training and knowledge necessary to maintain the infrastructure of the business erodes over time bringing with it increased downtime and unproductivity. The environment now exists that an insufficient amount of IT backup and security will finally lead towards downtime and risks company data and therefore its future.
This is the reason why we see small and mid-size companies turning towards our services as an extension of their own team. Those companies are no longer forced to choose a standard set of services that are costly and hardly meet the distinct needs of the company. As a provider, we offer the latest solutions and flexible services.
Companies Getting Tremendous Benefits
As a result, we feel proud to state that companies get tremendous benefit from our services that include optimal usage of Managed Services. Benefits in terms of Managed Service are many. Firstly, it helps in reducing the cost in a significant manner! A company always looks to have direct savings towards its bottom line.
Tightening of the IT budget while looking around to meet increasing business demands seems to be the most common order of the day! Thus, companies hover all around to look towards efficient and managed cost pressure along with security. Our team of experts is proficient in terms of providing flexible solutions thus enhancing productivity and eliminating downtime.
Get Access to a Dedicated Global Pool of IT Professionals
With access to a dedicated local pool of IT professionals along with the right tools, we are successful in dealing with all sorts of software and hardware issues in an efficient manner thus enhancing productivity. We enter into a partner relationship with our clients in order to pull back resources during toughest situations.
We have remained successful in enabling our valuable clients to maintain a managed IT Staff with many competencies. Our managed support services help companies to tap into a diversely trained pool of highly qualified support professionals who are proficient in numerous technical proficiencies as a whole.
Come and Fetch the Best Solution
By getting into touch with them, you can expect to have your IT requirements met with ease and in a timely manner. At the time of engagement they match the profiles of highly experienced and most skilful staff who can meet any sort of technical challenge in a diligent manner.
Our IT Manage Services are highly agile as they are well recognized for providing superior services and resources in a comprehensive and cost-effective manner. We have adopted a centralized 24/7 help desk service model in order to manage resources in a timely and effective manner. Come, we are here to help you!