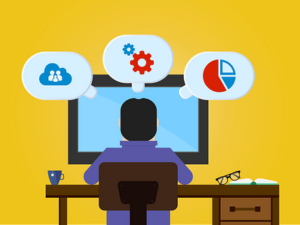 The pandemic has changed the way people work and collaborate. Since the rise of the hybrid setup, teams have become more dependent on technology. Workplace tools allow for greater productivity and seamless information transfer even if the workers are not in the office together.
However, it can be challenging to navigate and switch between different apps. To help you decide what workplace tools are best for your business, here are the top options worth introducing to your team.
Direct Messaging Platform
A direct messaging platform is essential to your team's success. Select one that allows team-wide and small-group communication. That way, you can send targeted messages without consuming everyone's time. More importantly, pick one that all team members can use, no matter their level in the organization. If someone isn't responding on the platform, they might be experiencing difficulties and need help. The goal is to engage everyone.
Customer Relationship Management (CRM) Software
Customers are the heart of any business. A modern CRM platform can help strengthen your customer relationship. It will gather customer information in one place for the customer service team to access when needed. It is also a crucial tool for your sales team. It streamlines the sales process, boosts leads, and helps retain customers. Some CRM platforms can also automate fundamental tasks and provide analytics.
Project Management Software
No team in this day and age should be without a project management platform. It's essential for every aspect of planning. You can use it for assigning tasks, setting deadlines, monitoring deliverables, and addressing issues. Since the pandemic, project management tools have become even more advanced. Some now have AI capabilities that allow users to be more hands-off. It will automatically assign tasks, update project statuses, and interpret data.
Cloud Computing Solution
A cloud computing solution is vital to a growing business. It's a web-based hub that makes data easily accessible to all team members from wherever they are. It syncs changes to files from all devices, allowing for better collaboration. You can provide more members with access as your team grows. A cloud computing solution also backs up your data and allows for faster restoration in case of data loss.
Knowledge-Sharing Platform
Another must-have in your team's digital toolbox is a knowledge-sharing platform. It will serve as your organization's internal knowledge base that answers all questions. Choose one that allows for collaboration. That way, anyone within the team can log on, share what they know, and find whatever information they need. In addition, look for one that is AI-powered, intuitive, and self-updating. With a powerful platform like that, your team members don't have to disrupt someone else's workflow just because they have a question.
The Bottom Line
Workplace tools can have countless benefits for your team. They can eliminate repetitive tasks, improve communication, and streamline the transfer of information. But before you adopt a new technology, consider its cost-to-benefit ratio. Make sure that the amount you spend on it matches the time you save.