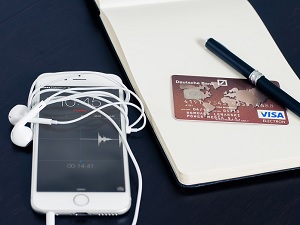 Apple has partnered with Goldman Sachs and their long-awaited "Apple Card" begins rolling out in limited fashion. The card becomes available to all iPhone owners in the United States toward the end of August.
According to CEO Tim Cook, a random selection of people who signed up to be notified about the Apple Card are getting an early-access sneak peek.
However, the company has been tight-lipped about exactly how many people are being invited into the preview group.
If you're one of the lucky winners, know that the sign-up process will involve upgrading to iOS 12.4 and entering your address, your birthday, income level and the last four digits of your Social Security number.  That information is sent on to Goldman Sachs, which will approve or deny your credit application in real time and in under a minute.
Note that part of the approval process also involves a TransUnion credit check, so if you have that information locked, you'll need to unlock it (at least long enough to get approval).
Once you've been approved, your card will show up in your Apple Wallet immediately and be available for use.  If you want one, you can request a physical card from Apple for free during the setup and it will arrive in the mail in a few days.
The cool thing about the physical card is the fact that it has an NFC tag on it, so you can activate it simply by tapping the phone against it.
Also note that you'll have three different credit card numbers associated with your Apple Card:
The number assigned to your phone
The number assigned to the physical card
A virtual number you can access in the app for online purchases where the vendor doesn't accept Apple Pay.
Also note that unlike the other credit cards in your wallet, this one has no expiration date or security code. You can lock the card at any time from the app, though.  Welcome to Apple's Brave New World!