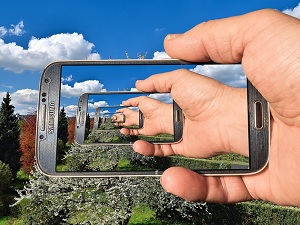 Samsung is upping the ante in the smartphone world.
The company recently announced that they will be introducing 48-mp and 64-mp image sensors for smartphones launching in the fall of 2019.
Both sensors employ the company's Isocell Plus and Tetracell technology.
The former was designed to reduce light leakage, and the latter utilizes four pixels as one to allow for superior digital photography in low-light conditions.
Barely six months ago, the South Korean tech giant launched 32-MP and 48-MP Isocell sensors used in their Galaxy S10 smartphones. The image sensor market has been quite profitable for Samsung, and these latest product offerings will enable them to compete head-to-head with Japanese rival Sony.
In tandem with the announcement, Samsung revealed that they'd be investing more than $120 billion  between now and 2030 to become the dominant player in the logic chip market. Their latest research has seen them investigating new applications for sensors to be used in autonomous vehicles in the years ahead.
This is good news and is sure to trigger several other product announcements later in the year as companies take advantage of the soon to be available technology.  Given Samsung's success so far in this segment of the market, there's little reason to think that their latest releases will be anything other than a resounding success.
In an industry fraught with uncertainty, Samsung seems to be making all the right moves this year. The future certainly looks bright for them, and the markets they serve.  If you're a fan of photography, you're sure to appreciate the new capabilities that these sensors enable.  Best of all, if the past is any guide, you won't have to wait long to start taking advantage of them.