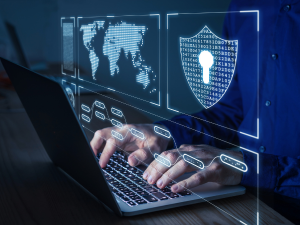 Have you started business planning for 2024? The last few months of the year can get hectic, between trying to close out the end of the quarter strong and mapping out your plan to ramp things up in the new year. One area that small business owners often skip over when creating their new year strategy is cyber security planning. Cyber security is NOT an IT decision, it's a business decision. Your company hinges on your ability to keep your data – and your clients' – safe from cybercriminals.
To create a reliable plan for the next year, there are a few cyber security basics that every business owner needs to be aware of to avoid being the next victim of a data breach. Cyber issues are becoming such a regular occurrence that it's easy to become desensitized to the effects of data breaches, which can leave you vulnerable to an attack.Here are 10 BIG takeaways about cyber security that you should keep in mind. Your security depends on it!
1. No business is too small.
Hackers love that small business owners think this way because it makes them an easy target. If you have money or data of any size or amount, you are at risk.
Takeaway – Protect your business and consult a cyber security expert on what you need.
2. Your employees are putting you at risk.
They are not likely doing it on purpose, but human error is the #1 issue with cybercrime. Whether it's a bad link that is clicked or a malicious attachment that is downloaded, these small "accidents" can create huge problems for your business.
Takeaway – Invest some of your budget in cyber security training for your team.
3. Software needs to be updated when you're notified about it.
This is true for your web browsers too. If you get a notification about an available update, it often means that a bug or a vulnerability needs to be patched. If you don't patch it, that's a little hole in your network that hackers can and will find.
Takeaway – Have your IT team run automatic updates and always manually update if prompted.
4. Back up your data.
Disasters happen, whether natural, like a tornado or flood wiping out your office, or a cybercriminal locking down your network and ransoming you to return it. Having a backup will allow you to reduce downtime and further damage to your business.
Takeaway – Have an off-site backup and test it regularly to ensure it works properly.
5. Use a VPN when working outside of the office.
If you're on vacation, working while traveling or even working at the local coffee shop, connecting to public WiFi can put you at risk. Hackers can break into unsecured WiFi or set up fake ones, hoping you will connect to them.
Takeaway – Use a VPN, or virtual private network, to keep your network safe from hackers while on the go.
6. Data breaches are expensive.
The cost of data breaches puts most small companies that get hacked out of business within six months. These can range from hundreds of thousands to millions of dollars, depending on the damage done.
Takeaway – Invest in cyber security. Don't play around and risk everything you worked hard to build.
7. Having cyber insurance doesn't mean you're covered if you're hacked.
If you're hacked, cyber insurance doesn't automatically cover you. Insurance agents will check to make sure you've done everything in your power to prevent the attack. If you haven't, your claim can be denied.
Takeaway – Read the fine print on cyber insurance policies and make sure you're following all requirements.
8. Compliance doesn't mean you're secure.
Being compliant means you are fulfilling all the requirements that the government has issued. This does not mean you are 100% secure; it means you have implemented the basics.
Takeaway – Consult with a cyber security professional who deals with clients in your industry to make sure that you're not only compliant but that you have the proper security systems in place to protect your organization.
9. Basic antivirus and firewalls are not enough.
These are helpful, but they aren't enough to keep you secure. Hackers are routinely finding ways to break through this software, so if you're not implementing other security measures, you're at risk.
Takeaway – Consult with a cyber security professional to find out what you need. It's often not as expensive as people think and will cost you WAY less if you ever become a victim of a data breach.
10. You'll be the one who people hold accountable if you're hacked.

When it comes to data breaches, whether you're at fault or not, you'll be the one to catch the blame from your customers, employees, attorneys, the media and more, and it will be ugly.
Takeaway – You can prevent this by taking a proactive approach to cyber security.
Take your security seriously in 2024. We offer a FREE, no-obligation Security Assessment. Even if you already have a cyber security company you work with, it can't hurt to have a second expert opinion to assess if and where you're vulnerable to an attack.
We have limited spots available and expect to fill up before the holiday break, so if you're interested, click here to book your assessment with our team now.