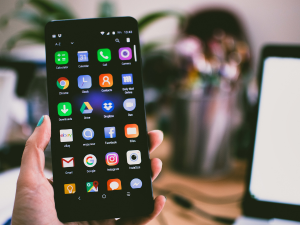 The latest version of Google's popular mobile operating system is here. From an upgraded battery life and security features to a favorable user experience, Google's Android 14 release is creating lots of buzz across the globe. 
Android devices now have greater capabilities that cater directly to business leaders and those shifting to a remote or hybrid workplace. In this guide, we'll review all of the benefits of Android 14 for business owners in particular. 
Increased Mobile Security
Other versions of Android aim to protect your device with a lock screen you can only open with a four-digit code. With Android 14, Google increases security by allowing six-digit codes to unlock the device. The update brings up to a million possible password combinations, reducing the risk of security breaches. 
Remote workers may have sensitive information about their company on their phones. By letting them create a longer passcode to get past their lock screens, Google protects Android users from data breaches and hacking. You can safeguard your device by setting a unique code that makes it harder for others to unlock. 
Separate Work and Leisure With Android Work Profile
The addition of the Android Work Profile is among the top benefits of Android 14 for business owners. This feature is great for anyone who uses their phone for work and personal matters. Organizations can set up employees with their Android Work Profile and manage all of the work-connected apps, including:
Email apps
Team messaging and video chat apps
File sharing apps
All other apps and data that are for personal use will remain private from your company. This feature lets you easily navigate your work contacts and use your device. 
Updates to Managed Devices
If you're an admin to a managed device, you can now enable only trusted password managers. Keep all login credentials safe by deploying a password manager, which increases your overall cybersecurity. Working on your Android device comes with peace of mind that sensitive account information will be safe and secure. 
Admins and business leaders also have control over wireless connectivity. You can turn off insecure 2G connections for optimum performance. 
Data Protection
Do you enjoy using a popular app only to discover that it uses your data in a way you don't approve of? Android 14 aims to protect all users, especially business owners, by alerting you when apps change their data policies. You'll receive a monthly warning if any apps on your device modify how they share or use data. 
This feature allows you to put an end to data-sharing that you don't consent to. As a result, you won't have to worry about those apps offering your information to third-party advertisers. 
Reap the Rewards of Android 14
Are you ready to enjoy all of the benefits of Android 14 for business owners? The version is now available for all compatible devices and is perfectly geared toward those who work from remote devices.