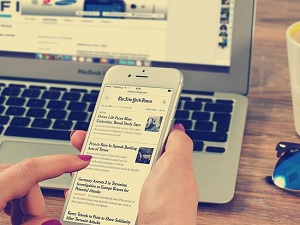 Apple CEO Tim Cook has been busy.  Knowing that his company has little chance of dramatically increasing their market share in an increasingly saturated field for handheld devices, they've shifted gears.
They are building a raft of new features and premium services into the Apple Store to make the product's ecosystem even more vibrant than it already is.
Among the new services on deck is a premium news aggregation service, described as a "Netflix for News" which will allow subscribers to access unlimited content from all content providers feeding into the service.
The new service is slated to be rolled out next month, but there have been some problems.  At the core, the issue is that the prospective content providers are balking at Apple's terms.  The company is demanding a staggering 50 percent of the revenue generated via subscriptions, with the remainder to be divided among the content providers (based on how much of each company's content is accessed and how long users stay engaged).
On top of that, the company is refusing to share its customer data with publishers, which they're understandably eager to get access to.
It's a valid criticism. Although Apple has been in talks with heavy hitters such as the Washington Post, The Wall Street Journal, the New York Times and many others, they've yet to attract enough takers for the service to reach critical mass. That leaves the future of the service very much in doubt, even before it launches.
Apple certainly has a right to reap significant benefits from the creation of the news aggregation service. If they're not willing to bend somewhere, either on fees or on access to user data, they're going to wind up sabotaging their own service. Mr. Cook is obviously smart enough to realize this, so we expect that soon, the company will soften their terms and share more of the wealth.  Netflix for News is very likely to become a reality in the near future.